What is the purpose of the Hub?
The core purpose of the Church Lane Early Years Hub is to ensure the best outcomes for our young children.
The hub provides regular opportunities for schools, pre-schools, childminders, Children's Centres and other key partners (Such as Universities and Colleges) to work in partnership across the local area to develop practice through CPD, share some of the current outstanding practice that takes place in our settings, share resources, network and discuss some of the issues we may be facing.
Since November 2018, our Hub has gone from strength to strength with over 20 members who regularly return and we are continuously welcoming new members.
So far sessions have focused on:
- Finding out what we would all like to achieve from the Hub and setting our own agendas
- Showcasing what we are proud of/do well in our settings
-Using and developing children's Maths during snack time
- A reflective discussion on the different methods of planning/observing in the Early Years. This included sharing how we have embedded ITMP in our setting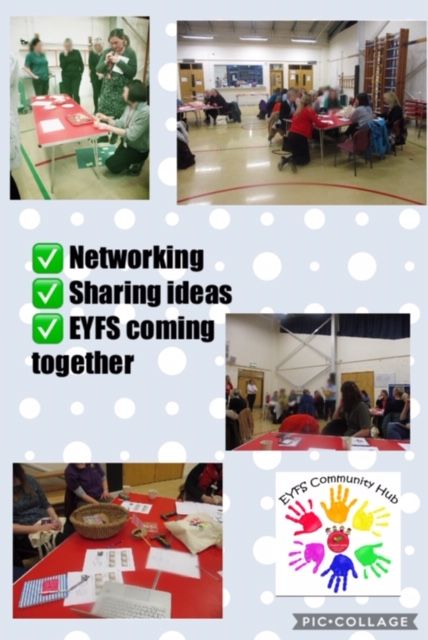 Diary Dates:
Tuesday 15th March 2019- A discussion about 'School Readiness.' The aim of this session is to develop a shared understanding of what getting ready for school looks like. Reception Teachers, Nursery Practitioners and other EYFS Providers are invited to make this meeting successful.
Community Dental Services will also be discussing how EYFS providers can promote good oral health in their settings.
Grantham College will be sharing information on how they can support Managers/Heads to upskill their staff to improve outcomes.
Saturday 18th May 2019- Sally Wright, Best Selling Author, will be delevering her tuff spot training. £30pp. To book please contact Gemma in the office.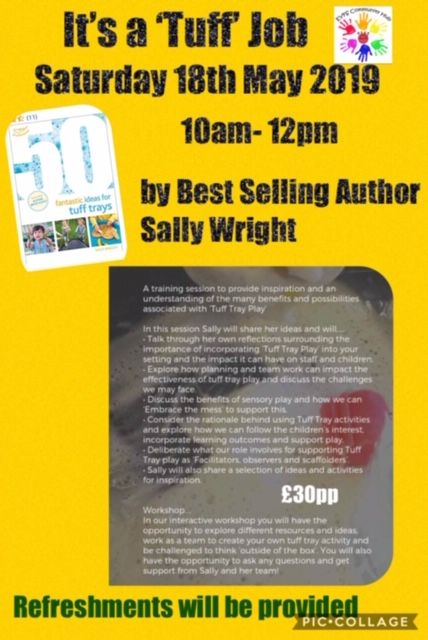 Friday 15th November 2019- Elaine Bennett and Leah Morris will be delivering in the moment planning training. To book your place click here.
Coming soon:
-An evening withMary Barlow (An EYFS Consultant) who is known Nationwide for her work in EYFS
- Sally Wright (Author of 50 fantastic ideas for tuff trays) will be delivering her training on 'It's a TuffJob!'
-Behaviour Management and Attachment training
If you would like to know more please follow our Facebook page
https://www.facebook.com/pg/EYFSCommunityHub/posts/
Or email the schools EYFS/HUB lead
kelly.hakes@sleafordchurchlane.lincs.sch.uk